The Step to Preventing the Major Diseases of Late Pregnancy
Aims
The SCOPE study has established a unique, international pregnancy biobank that will serve as a platform to:
identify novel molecular markers that predict in early pregnancy women who will subsequently develop late pregnancy complications.
test and validate combinations of key clinical, known and novel molecular markers to predict each disease .
develop predictive tests that offer first time mothers an accurate, personalised risk rating for each disease.
Research
The SCOPE study arises from the knowledge that there are a number of potential clinical and molecular markers (certain proteins, fats and small molecules in blood) for these complications. None of these candidate markers are useful as individual predictive tests, but combinations of markers are likely to result in clinically useful screening tests. Further, recent advances in proteomic and metabolomic technologies and bioinformatics (advanced mathematics) allow us to discover and map differences in molecules circulating in the blood of women who later develop these conditions. This has created the opportunity to develop effective methods of predicting these diseases, with the potential to dramatically improve maternal and infant health worldwide.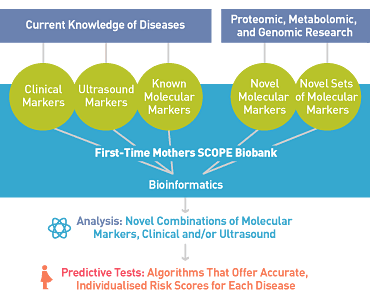 SCOPE Clinical Study
Development of the high quality biobank in New Zealand, Australia, the UK and Ireland is the foundation stone of this research.